The Role of Sharia Tourism Business Towards Economic Growth in Indonesia and Nigeria
Keywords:
Sharia Tourism, Economy, Indonesia, Nigeria
Abstract
The increasingly significant development of global tourism indirectly also has a positive impact on developing countries such as Indonesia and Nigeria. The purpose of this research is to demonstrate the development of sharia tourism in halal business, and its role in supporting the sustainable development goals (SDGs) program in Indonesia and Nigeria. The method used in this research was qualitative. Data collection techniques used by the literature from various sources. The analysis technique used is descriptive qualitative, outlining the development and potential for developing sharia tourism in Indonesia and Nigeria. Then outlines the role of its tourism in supporting the SGDs program. The results show that the sharia tourism sector has a role to support SDGs, based on its characteristics and the halal process involves many parties, so it has an impact on many parties, involving transportation service providers, ticket sales/travel agents, lodging and hotels, culinary, souvenirs and handicrafts, so move many economic actors. Sharia tourism supports SDGs, and welfare reduces poverty, food security, and economic growth provides employment, provides infrastructure, provides justice, and can build partnerships globally. In addition, Indonesia seems to be more productive than Nigeria in leading sharia tourism. Thus, the tourism sector plays an important role in the world economy because it is considered one of the contributors to economic growth in Indonesia and Nigeria.
References
Amrina, D. H., Melinia, M., Septiana, R., Alawiyah, T., & Zainal, R. (2020). IMPLIKASI PARIWISATA PANTAI SYARIAH TERHADAP PENINGKATAN EKONOMI MASYARAKAT DAN KELESTARIAN LINGKUNGAN (Studi Empiris: Pantai Embe Merak Belantung Kalianda Lampung Selatan). Salam (Islamic Economics Journal), 1(2), 9–27. https://doi.org/https://doi.org/10.24042/slm.v1i2.8493
Annabi, C. A., & Wada, S. M. (2016). Halal Pharmaceutical Industry in Nigeria: A bitter pill to swallow. Journal of Emerging Economies and Islamic Research, 4(2), 1–12.
Badan Pusat Statistik. (2016). Potret Awal Tujuan Pembangunan Berkelanjutan (Sustainable Development Goals) di Indonesia. Jakarta.
Chanin, O., Sriprasert, P., Abdul Rahman, H., & Don, M. S. (2015). Guidelines on Halal Tourism Management in The Andaman Sea Coast of Thailand. Journal of Economics, Business and Management, 3(8), 791–794. https://doi.org/http://doi.org/10.7763/JOEBM.2015.V3.287
Fahham, A. M. (2017). Tantangan Pengembangan Wisata Halal di Nusa Tenggara Barat. Aspirasi: Jurnal Masalah-Masalah Sosial, 8(1), 65–79.
Ferawati, R. (2018). Sustainable Development Goals di Indonesia: Pengukuran dan Agenda Mewujudkannya dalam Perspektif Ekonomi Islam. Kontekstualita, 33(02), 143–167.
Harnedi, J. (2021). Pariwisata Syariah di Aceh Tengah: Peluang dan Tantangan STAIN Gajah Putih dalam Pendirian Prodi Pariwisata Syariah. Jurnal As-Salam, 5(1), 76–89.
Irhamsyah, F. (2019). Sustainable Development Goals (SDGs) dan Dampaknya Bagi Ketahanan Nasional. Jurnal Lemhannas RI, 7(2), 45–54.
Isezuo, K. O., Sani, U. M., Waziri, U. M., Garba, B. I., Coker, L. K., & Folorunsho, A. (2022). Pattern and outcome of heart failure amongst children admitted in an emergency pediatric unit of a Tertiary Hospital in Sokoto State, North-Western Nigeria. Nigerian Journal of Basic and Clinical Sciences, 19(2), 126.
Muis, M. (2020). Perkembangan Peluang dan Tantangan Wisata Halal di Aceh. Jurnal Adabiya, 22(1), 41–55.
Mukarromah, S. (2021). Persepsi Masyarakat Terhadap Destinasi Wisata Syariah: Tujuan Fenomena (Studi Kasus Pada Wisata Syariah Utama Raya Banyuglugur Situbondo). Perisai: Islamic Banking and Finance Journal, 5(2), 213–222.
Musa, A., Halim, H., Khalidin, B., & Ibrahim, A. (2021). What Determines Muslim-Friendly Tourism in Aceh? Iqtishadia, 14(1), 81–106.
Noviantoro, K. M., & Zurohman, A. (2020). Prospek pariwisata syariah (Halal Tourism): Sebuah tantangan di era revolusi industri 4.0. Equilibrium: Jurnal Ekonomi Syariah, 8(2), 275–296.
Nuraini, E., Saputra, N. H., & Kholisiah, L. (2019). Potensi dan Prospek Wisata Syariah dalam Meningkatkan Ekonomi Daerah (studi kasus: Kota Bandung). BASKARA: Journal of Business and Entrepreneurship, 1(2), 93–104. https://doi.org/https://doi.org/10.54268/baskara.1.2.93-104
Okonkwo, E. (2015). Religious Activities and Their Tourism Potential in Sukur Kingdom, Nigeria. The International Journal of Religious Tourism and Pilgrimage, 3(1), 1–11. https://doi.org/https://doi.org/10.21427/D7QF06
Paramarta, V., Dewi, R., Rahmanita, F., Hidayati, S., & Sunarsi, D. (2021). Halal Tourism in Indonesia: Regional Regulation and Indonesian Ulama Council Perspective. International Journal of Criminology and Sociology, 10, 497–505.
Priyadi, U. (2020). Pariwisata Syariah Prospek dan Perkembangan. Sumatera Barat: Perpustakaan Prodi Pariwisata Syariah.
Rahmi, N. (2017). Kajian Ekonomi Pariwisata Syariah Kota Banda Aceh. Jurnal Samudra Ekonomi Dan Bisnis, 8(1), 577–589.
Rainey, A. L., Loeb, J. C., Robinson, S. E., Lednicky, J. A., McPherson, J., Colson, S., … Maurelli, A. T. (2022). Wastewater Surveillance for SARS-CoV-2 in A Small Coastal Community: Effects of Tourism on Viral Presence and Variant Identification Among Low Prevalence Populations. Environmental Research, 208, 112496. https://doi.org/https://doi.org/10.1016/j.envres.2021.112496
Ramadhany, F., & Ridlwan, A. A. (2018). Implikasi Pariwisata Syariah Terhadap Peningkatan Pendapatan dan Kesejahteraan Masyarakat. Muslim Heritage, 3(1), 147–164.
Rimet, R. (2019). Strategi Pengembangan Wisata Syariah Di Sumatera Barat: Analisis Swot (Strength, Weakness, Opportunity, Threath. Syarikat: Jurnal Rumpun Ekonomi Syariah, 2(1), 50–61.
Sadiah, H. (2019). Pengelolaan Hotel Syariah Menurut Fatwa DSN-MUI Nomor 108 Tahun 2016 Tentang Pedoman Penyelenggaraan Pariwisata Berdasarkan Prinsip Syariah (Studi Kasus di Hotel Ratna Syariah Kota Probolinggo). Jurnal Justisia Ekonomika: Magister Hukum Ekonomi Syariah, 3(1). https://doi.org/http://dx.doi.org/10.30651/justeko.v3i1.2934
Safuridar, S., & Damayanti, M. (2018). Analisis Pengaruh Pendidikan dan PDRB per Kapita terhadap Jumlah Penduduk Miskin di Provinsi Aceh. Jurnal Samudra Ekonomi Dan Bisnis, 9(2), 180–187.
Sofyan, R. (2011). Bisnis Syariah, Mengapa Tidak?: Pengalaman Penerapan pada Bisnis Hotel. Jakarta: Gramedia Pustaka Utama.
KNKS. (2018). Masterplan Ekonomi Syariah Indonesia 2019-2024. Jakarta: Kementerian Perencanaan Pembangunan Nasional/ Badan Perencanaan Pembangunan Nasional.
Trimulato, T., Syarifuddin, S., & Lorenza, P. (2022). The Role Halal Industry to Support Sustainable Development Goals (SDGs). Annual Conference on Islamic Economy and Law, 1(2), 205–217.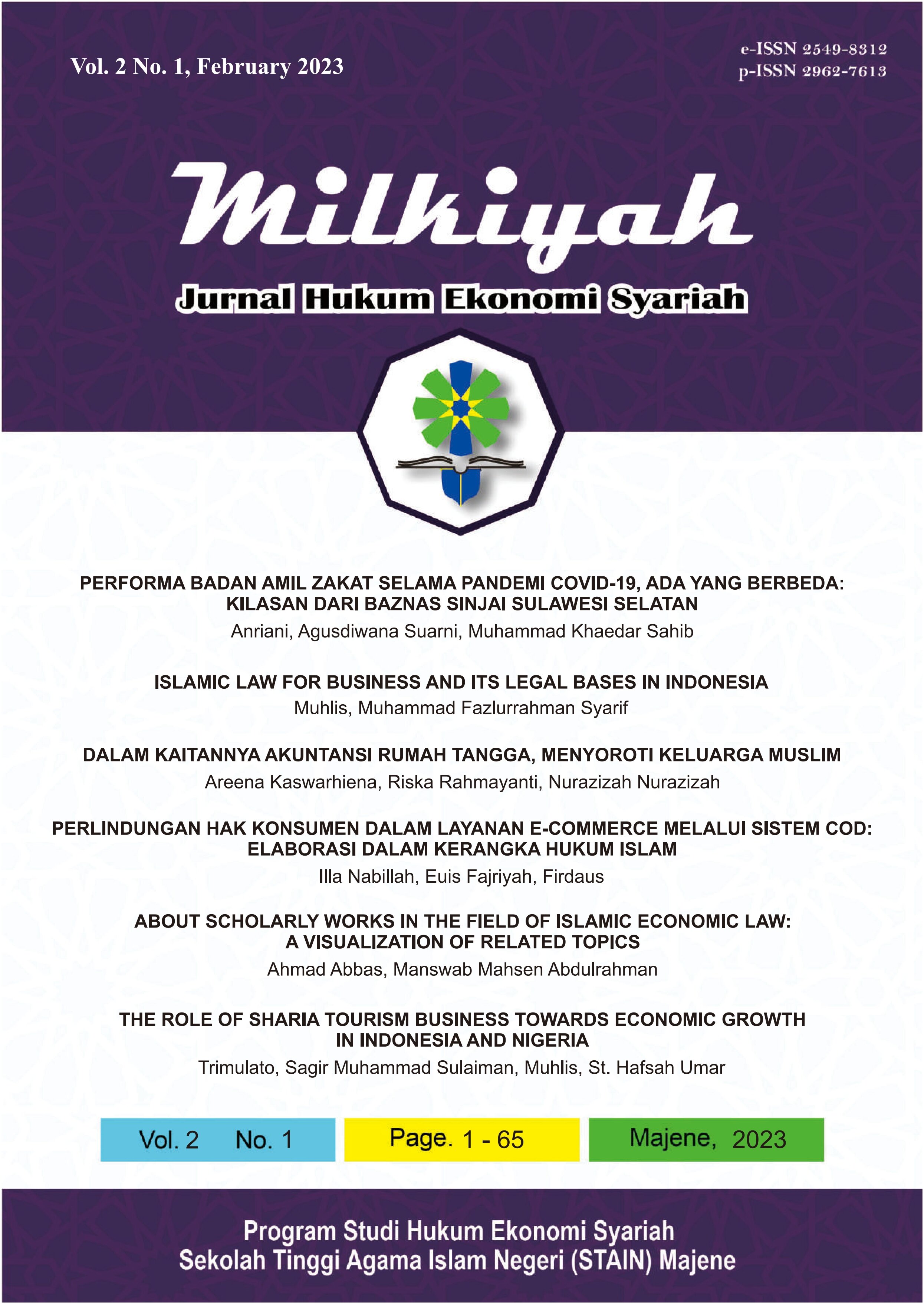 Downloads
How to Cite
Trimulato, Sulaiman, S. M., Muhlis, & St Hafsah Umar. (2023). The Role of Sharia Tourism Business Towards Economic Growth in Indonesia and Nigeria. Milkiyah: Jurnal Hukum Ekonomi Syariah, 2(1), 56–65. https://doi.org/10.46870/milkiyah.v2i1.266
License
Copyright (c) 2023 Milkiyah: Jurnal Hukum Ekonomi Syariah
This work is licensed under a Creative Commons Attribution-NonCommercial 4.0 International License.