Perlindungan Hak Konsumen dalam Layanan e-Commerce melalui Sistem COD: Elaborasi dalam Kerangka Hukum Islam
Keywords:
Islamic Law, Customer Protection, COD
Abstract
Online buying and selling are a form of buying and selling activity that has its own characteristics, which utilizes the internet. Such conditions are very favorable to consumers on the one hand, because they provide an opportunity to have many choices in obtaining goods and services. After all, violations of consumer rights are possible. Therefore, it is necessary to protect consumer rights in buying and selling online. This study aims to analyze the protection of consumer rights in e-Commerce services through the COD system at JNE Galagamba-Ciwaringin-Cirebon and its elaboration within the framework of Islamic law. This research is a qualitative research with data collection using observation techniques, documentation, and interviews. Protection of consumer rights in e-commerce transactions through the COD system carried out at JNE Galagamba-Ciwaringin-Cirebon is basically in accordance with Islamic law because there are khiyar rights, namely the return of goods and funds.  delivery of goods with the COD system where it has been carried out according to the procedure for customers who order online.
References
Anggito, A. & Setiawan, J. (2022). Metodologi Penelitian Kualitatif. Cirebon: CV Jejak.
Anggota IKAPI. (2010). Kompilasi Hukum Ekonomi Syariah. Bandung: FOKUSMEDIA
Creswell, J.W. (2014). Research Design: Qualitative, Quantitative and Mixed Methods Approaches (4th ed.). Thousand Oaks, CA: Sage.
Departemen Agama RI. (2005). Al-Quran dan Terjemahannya. Cirebon : CV JART.
Hamsinar. (2019). Analisis Perlindungan Hak Konsumen Terhadap Transaksi E-commerce Menurut Hukum Islam Dan Hukum Positif (Studi Pada Shopee). Skripsi, UIN Alauddin Makassar.
Hasan, A., & Reza, S. (2021). Analisis Penerapan Sistem Pembayaran Cash On Delivery (Cod) Untuk Meningkatkan Penjualan Bisnis Online Pada Aplikasi Marketplace Toko Deals Of The Day. JAMBIS, 1 (2), 114-118.
Joni, Y. (2019). Ekonomi Islam Menurut Pandangan Muhammad Baqir al-Shadr. Bukittinggi: Wade Group.
Mustofa, I. (2012). Transaksi Elektronik (E-Commerce) dalam Perspektif Fiqih. Jurnal Hukum Islam, 10 (2), 157-158.
Mustofa, I. (2013). Ijtihad Kontemporer Menuju Fiqih Kontekstual. Jakarta: Raja Grafindo Persada.
Putra, S. (2022). Perlindungan Hukum Terhadap Konsumen Dalam Transaksi Jual Beli Melalui E-commerce. Jurnal Hukum Perdata Fakultas Hukum Universitas Riau, 4(3, 287-309.
Shobirin. (2015). Jual Beli dalam Pandangan Islam. BISNIS. 3(2), 239-261. http://dx.doi.org/10.21043/bisnis.v3i2.1494
Undang-Undang Nomor 38 Tahun 2009 tentang Pos.
Undang-Undang Nomor 8 Tahun 1999 tentang Perlindungan Konsumen
Wong, Jony. 2010. Internet Marketing for Beginners. Jakarta: Elex Media Komputind
Yunita, D. (2022). Transaksi Jual Beli Melalui Media Elektronik Pada Website Online Ditinjau Dari Aspek Hukum Islam 2016. Skripsi.
Yusri, M. (2011). Kajian Undang-Undang Perlindungan Konsumen Dalam Perspektif Hukum Islam. Ulumuddin, V:7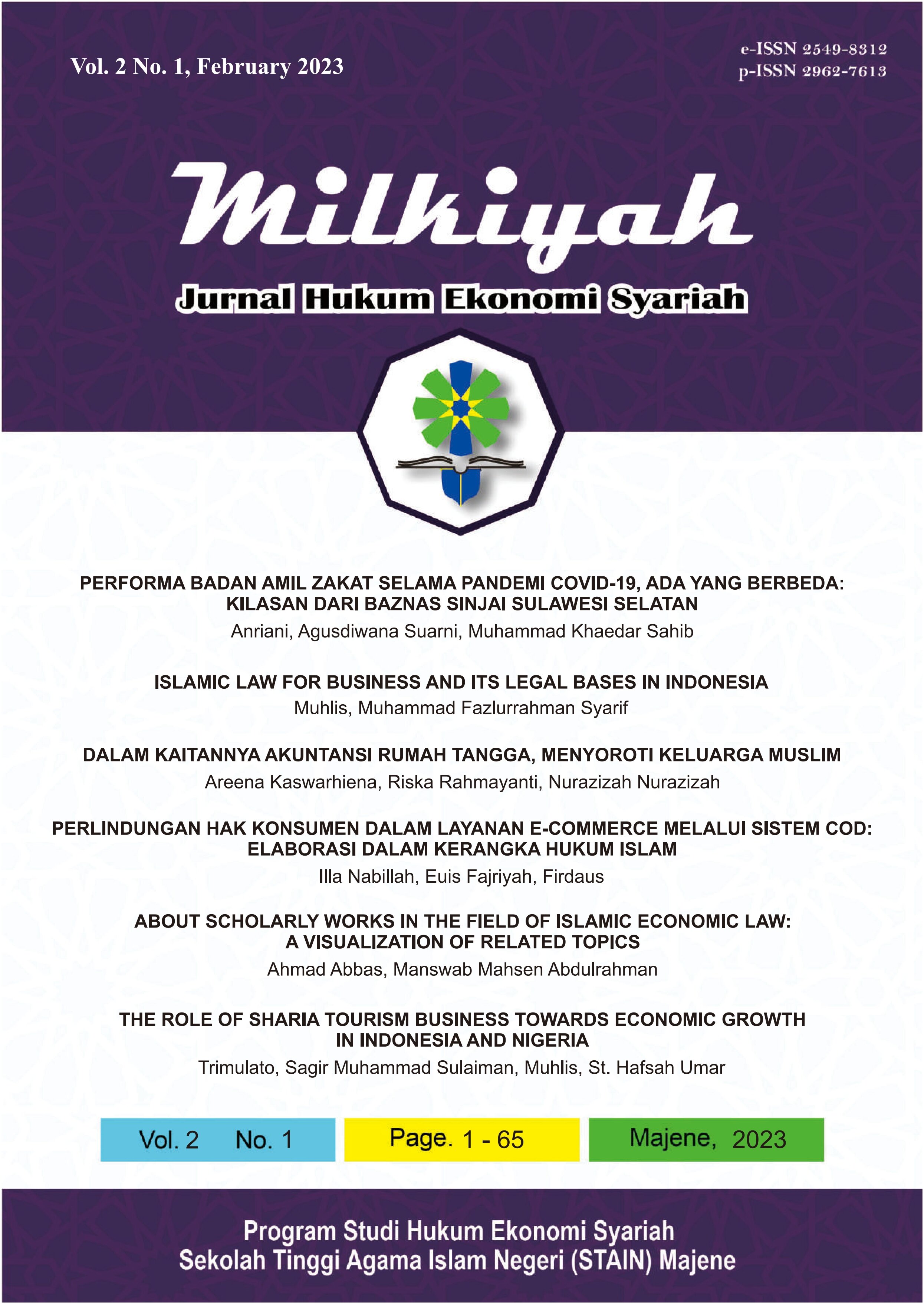 Downloads
How to Cite
Illa Nabillah, Euis Fajriyah, & Firdaus. (2023). Perlindungan Hak Konsumen dalam Layanan e-Commerce melalui Sistem COD: Elaborasi dalam Kerangka Hukum Islam. Milkiyah: Jurnal Hukum Ekonomi Syariah, 2(1), 37–45. https://doi.org/10.46870/milkiyah.v2i1.263
License
Copyright (c) 2023 Milkiyah: Jurnal Hukum Ekonomi Syariah
This work is licensed under a Creative Commons Attribution-NonCommercial 4.0 International License.