LITERASI KEUANGAN SYARIAH DAN KINERJA UMKM
Keywords:
MSMEs, Sharia Financial Literacy, Performance
Abstract
Micro, Small and Medium Enterprises (MSMEs) have an important role in increasing economic growth and public welfare, while Islamic financial literacy on products and services is currently an important factor in encouraging performance improvement. The purpose of this study is to determine islamic financial literacy whether it affects the performance and sustainability of MSMEs in Soreang Parepare District. The type of research used is quantitative. The sample of this study was 35 MSMEs in Parepare. Data analysis used descriptive statistics and simple regression. The results of this study found that financial literacy has a positive effect on the performance of MSMEs. These results indicate that financial performance is determined by the level of financial literacy. Financial literacy helps business owners to acquire the financial knowledge and skills necessary for them to make business plans, start financial plans and make strategic investment decisions. Increasing knowledge encourages them to innovate performance. Thus, performance continues to improve.
REFERENCES
Abbas, A. (2019). Analisis laporan keuangan perbankan syariah.
Abbas, A., & Arizah, A. (2019). Marketability, profitability, and profit-loss sharing: evidence from sharia banking in Indonesia. Asian Journal of Accounting Research.
Arfan Ikhsan,2014. "Metodologi penelitian bisnis untuk Akuntansi dan     Manajemen", (Bandung          Cita pustaka Media)
Diana Djuwita dan Ayus Ahmad Yusuf (2018) , "Tingkat Literasi Keuangan Syariah Di Kalangan UMKM Dan Dampaknya Terhadap Perkembangan Usaha"Al.Amwal Vol. 10 No.1 ,hal, 109.
Dwitya Ariwibawa (2016), "Pengaruh literasi keuangan terhadap kinerja dan keberlangsungan UMKM Di Jawa Tengah", Vol. 20 No. 1, h 4.
Frihatni, A. A., Sudirman, I., & Mandacan, F. (2022). Dampak Pandemi COVID-19 terhadap Kinerja UMKM dan Strategi Bisnisnya: Studi Kasus UMKM Irrenuang Parepare di Indonesia. Jurnal Akuntansi dan Pajak, 22(2), 759-763.
Rachma Fitriati. " Menguak Daya Saing UMKM Industri Kreatif: Sebuah Riset     Tindakan Berbasis Soft System Methodology" Jakarta:Yayasan Pustaka  
Rahayu,2017. "Pengaruh Literasi Keuangan Terhadap Kinerja dan Keberlangsungan UMKM Di Kota Surabaya", Jurnal Ilmu Manajemen, Vol. 5 No. 3, h. 4
Rahim, et.al, (2016) Islamic Literasi Keuangan and Its Determinants among University Student:An Exploratory Factor Analysis (International Journal of Economics and Financial Issues, 6
Rayyani, W. O., Arizah, A., & Abbas, A. (2019). The Coaching Assistance of Preparing the Financial Statements Based on Integrated Sak of EMKM [Asistensi Pembinaan Penyusunan Laporan Keuangan Berbasis SAK EMKM yang Terintegrasi]. Proceeding of Community Development, 2, 818-824.
Rochmi Widayanti, Ratna Damayanti, FithriaMarwanti. (2017). Pengaruh Financial Literacy Terhadap Keberlangsungan Usaha (Business Susrainability) pada UMKM Desa      Jatisari, Vol. 18, No. 2, Oktober
Sugiyono. (2010) Metode Penelitian Pendidikan pendekatan kuantitatif,               kualitatif, dan R&D, (Bandung: Alfabeta)
Surnadi Suryabrata. (2005). Metodologi Penelitian, (Jakarta:PT raja gafindo Persada)
Wicaksono. (2015). "Pengaruh Financial Literacy terhadap perilaku pembayaran kartu kredit pada karyawan Di Surabaya", Finesta, Vol. 3, No. 1, h. 85-90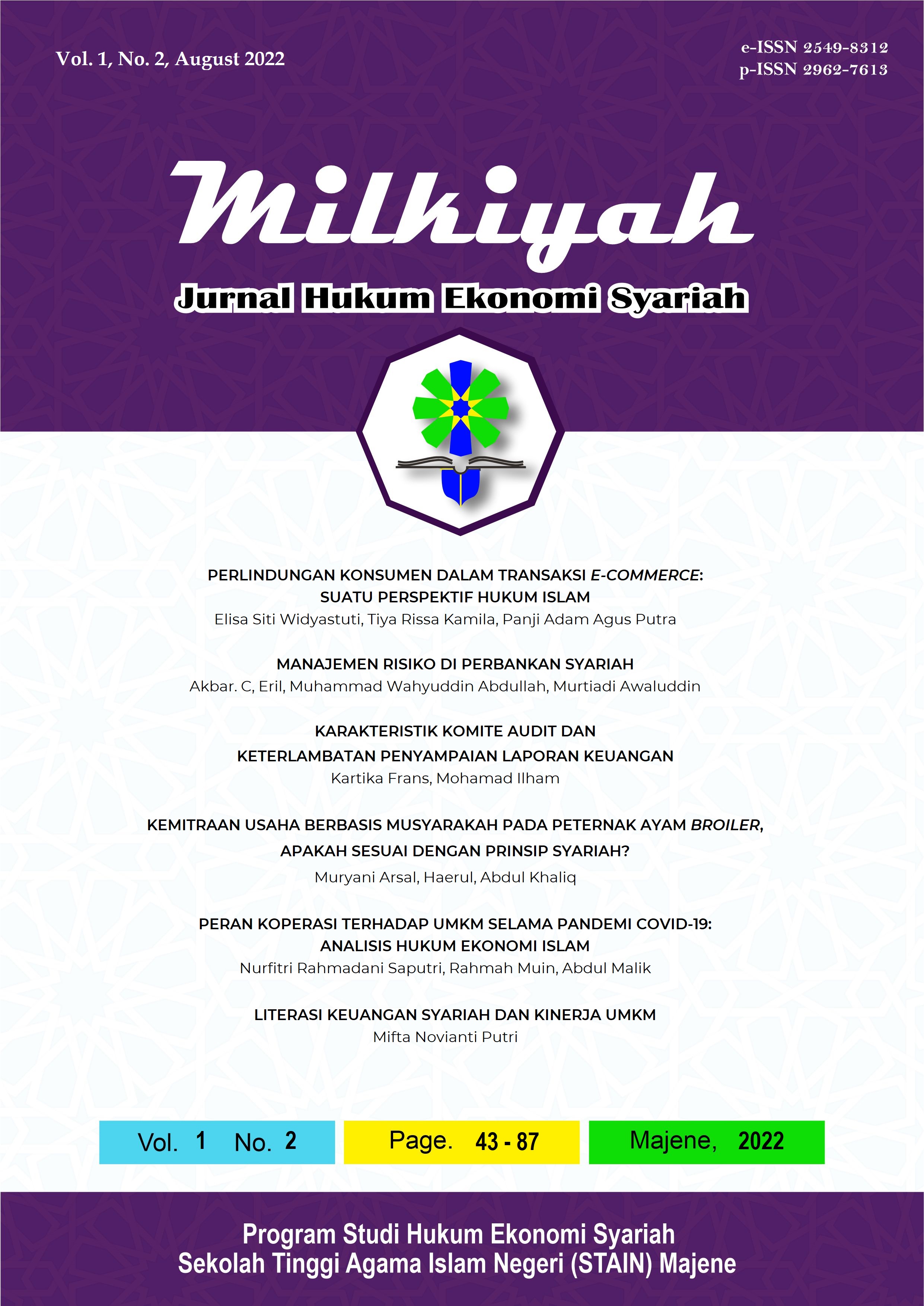 Downloads
How to Cite
Putri, M. N. (2022). LITERASI KEUANGAN SYARIAH DAN KINERJA UMKM . Milkiyah: Jurnal Hukum Ekonomi Syariah, 1(2), 81–87. https://doi.org/10.46870/milkiyah.v1i2.240
License
Copyright (c) 2022 Milkiyah: Jurnal Hukum Ekonomi Syariah
This work is licensed under a Creative Commons Attribution-NonCommercial 4.0 International License.