MANAJEMEN RISIKO DI PERBANKAN SYARIAH
Keywords:
Risk Management, Sharia Banking, Business
Abstract
Risks in doing business are always faced by all companies including Islamic banks. At its level, Islamic banks have a more complex level of risk compared to companies engaged in other sectors.  This research aims to examine the concept of risk management implemented in Islamic banking. The type of this research is library research by finding and collecting references that are relevant to the topic of study. Data analysis is carried out by data reduction, data presentation, and drawing conclusions. The findings of this study are that the types of risks common in Islamic banking consist of financing risk, benchmark risk, liquidity risk, operational risk and market risk. The risk management process in Islamic banking must use the principle of prudence so that it is easier to identify, search, manage and measure risks. The risk management process in Islamic banking is carried out by identifying risks, evaluating and measuring risks, and managing risks. Risk management is essential for Islamic banks so that the banking market quickly increases its market share.
REFERENCES
Abbas, A. (2019). Analisis laporan keuangan perbankan syariah.
Abbas, A., Rayyani, W. O., & Purnamasari, R. (2020). SHARIA BANKS AND THEIR BUSINESS EARNINGS: AN EMPIRICAL EXPLORATORY OF THE CASE OF INDONESIA. Airlangga International Journal of Islamic Economics and Finance, 3(1), 31-41.
Alfi Yandra, Dina Maidani. 2021. "Strategi Manajemen Menghadapi Risiko Operasional Pada Pt Bank Pembiayaan Rakyat Syariah (Bprs) Haji Miskin Pandai Sikek." Jurnal Manajemen Dan Profesional 2(1):12–31. doi: 10.32815/jpro.v2i1.760.
Fasa, Muhammad Iqbal. 2016. "Manajemen Risiko Perbankan Syariah Di Indonesia." Studi Ekonomi Dan Bisnis Islam I(2):36–53.
Fathony, Alvan, and Hibatur Rohmaniyah. 2021. "Manajemen Resiko Pembiayaan Murabahah Perbankan Syariah." Studi Islam Dan Mu'amalah 9(1):26–33.
Mauludin, M. Soleh. 2020. "Analisa Manajemen Resiko Untuk Mengurangi Moral Hazard Nasabah Pembiayaan Murabahah BRI Syariah Pare." El-Faqih: Jurnal Pemikiran Dan Hukum Islam 6(2):75–79.
Mukhlishin, Ahmad, and Aan Suhendri. 2018. "Analisa Manajemen Risiko (Kajian Kritis Terhadab Perbankan Syariah Di Era Kontemporer)." An-Nisbah: Jurnal Ekonomi Syariah 5(1):257–75. doi: 10.21274/an.2018.5.1.257-275.
Nelly, Roos, Saparuddin Siregar, and Sugianto Sugianto. 2022. "Analisis Manajemen Risiko Pada Bank Syariah: Tinjauan Literatur  ." Reslaj : Religion Education Social Laa Roiba Journal 4(4):918–30. doi: 10.47467/reslaj.v4i4.1008.
Pramudya, Ady Wena, and Puji Sucia Sukmaningrum. 2020. "Implementasi Manajemen Resiko Pembiayaan Mudharabah Pada Koperasi Jasa Keuangan Syariah (Studi Kasus Pada Koperasi Jasa Keuangan Syariah Al Abrar)." Jurnal Ekonomi Syariah Teori Dan Terapan 7(1):162. doi: 10.20473/vol7iss20201pp162-172.
Rahmawati, Iroh, Universitas Banten Jaya, Budi Mulyati, and Universitas Banten Jaya. 2021. "Analisis Manajemen Resiko Perbankan Dal Am Meminimalisir Non Performing Finance." Journal of Islamic Economics, Finance and Banking 5(1):1–21.
Ramadiyah, Rizki. 2014. "Model Sistem Manajemen Resiko Perbankan Syariah Atas Transaksi Usaha Masyarakat." Menara Riau 13(2):220–48.
Susanti, E., W. Sugianto, A. I. Sabillah, and ... 2019. "Analisa Pengaruh Manajemen Resiko Dan Perilaku Kerja Aman Terhadap Kinerja Pekerja Shipyard Kota Batam." SNISTEK (3):79–84.
Syarofi, Muhammad. 2022. "Implementasi Manajemen Risiko Pada Lembaga Keuangan No-Bank Syariahh (Studi Kasus Analisi Unit Simpan Pinjam Pola Syariah AUSATH Banyuwangi)." Keuangan Dan Perbankan Syariah 1:1–13.
Trisadini.  U. 2013. "Pengelolaan Risiko Pembiayaan Di Bank Syariah." Jurnal Hukum 3(2):408–28.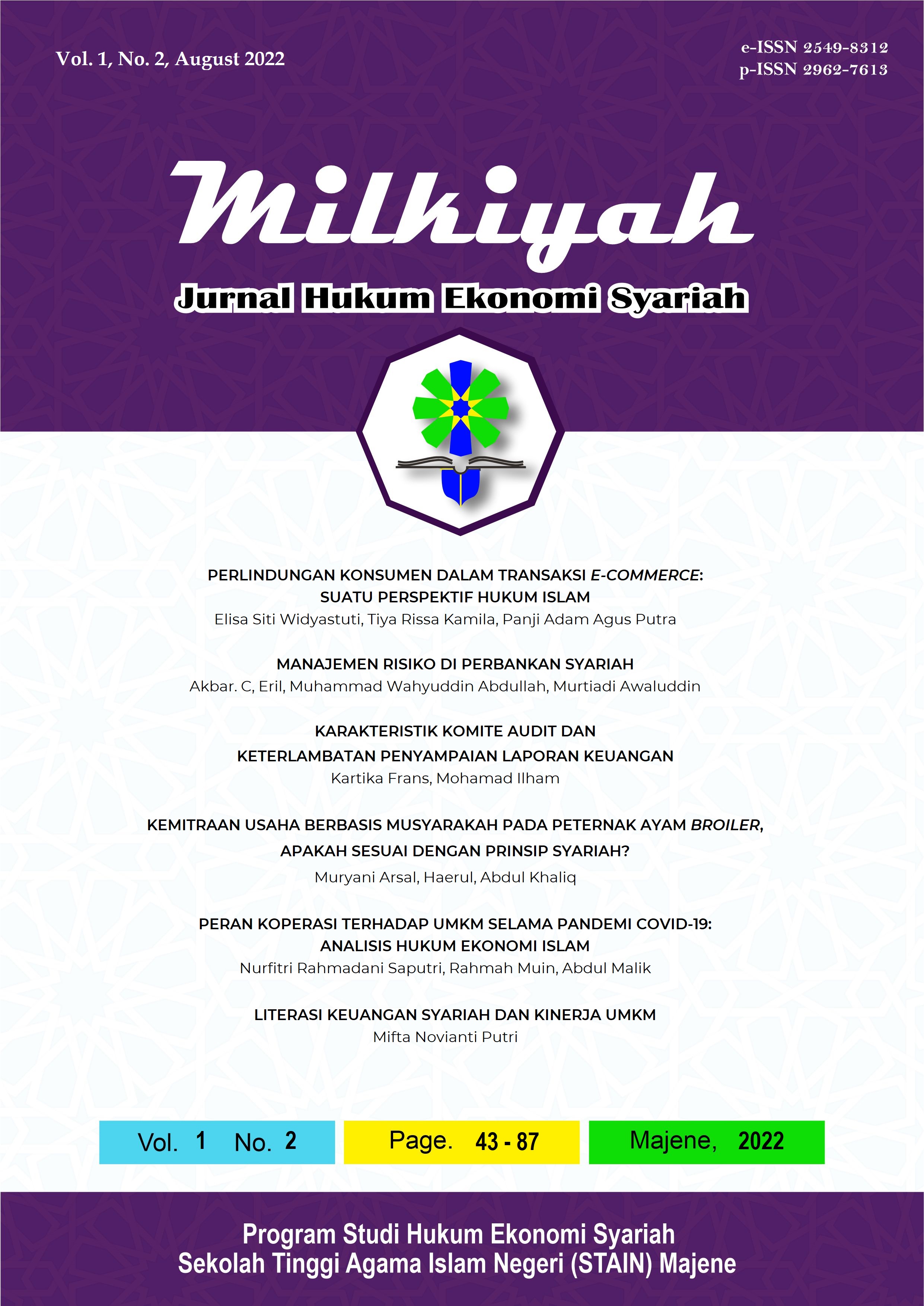 Downloads
How to Cite
Akbar. C, Eril, Abdullah, M. W. ., & Awaluddin, M. (2022). MANAJEMEN RISIKO DI PERBANKAN SYARIAH. Milkiyah: Jurnal Hukum Ekonomi Syariah, 1(2), 51–56. https://doi.org/10.46870/milkiyah.v1i2.230
License
Copyright (c) 2022 Milkiyah: Jurnal Hukum Ekonomi Syariah
This work is licensed under a Creative Commons Attribution-NonCommercial 4.0 International License.