SURVEI KEBERHASILAN KEGIATAN OUTING PLUS 8 BAGI MAHASISWA KPI 2021
Keywords:
Outing Plus 8, Pelatihan Broadcasting, Tingkat Keberhasilan
Abstract
Abstract
The Islamic Communication and Broadcasting Study Program aim to prepare academics who have professional communication skills and skills in the field of broadcasting, both television and radio broadcasting. To realize alumni who have competence in this field, the Islamic Communication and Broadcasting Study Program IAIN Parepare carries out a training activity and provides basic competencies for the study program to new students every year. The activity in the form of training was called outing plus 8. To find out whether the activity was successfully carried out in accordance with its objectives and whether it had an impact on the participants, the researchers used quantitative research methods with a survey approach and used questionnaires as research instruments. This study uses Kirkpatrick's 4-level theory of training model.The results of the study show that outing plus 8 activities have a high success rate for KPI 2021 students.
Keywords : outing plus 8, broadcasting training, Success rate
Abstrak
Prodi komunikasi dan penyiaran islam bertujuan untuk mempersiapkan akademisi yang memiliki kemampuan berkomunikasi secara professional serta keterampilan dalam bidang penyiaran baik itu penyiaran televisi dan radio. Untuk mewujudkan alumni yang memiliki kompetensi di bidang tersebut maka, Prodi Komunikasi dan Penyiaran Islam IAIN Parepare melaksanakan sebuah kegiatan pelatihan dan pembekalan kompetensi dasar prodi kepada mahasiswa baru setiap tahunnya. Kegiatan dalam bentuk pelatihan tersebut bernama outing plus 8. Untuk mengetahui apakah kegiatan tersebut berhasil dilaksanakan sesuai dengan tujuannya dan apakah memberikan dampak pada peserta, maka peneliti menggunakan metode penelitian kuantitatif dengan pendekatan survei dan menggunakan kuisioner sebagai instrument penelitian. Penelitian ini menggunakan teori 4 level model pelatihan Kirtpatrick. Hasil penelitian menunjukkan bahwa kegiatan outing plus 8 memiliki tingkat keberhasilan yang tinggi bagi mahasiswa KPI 2021.
Kata Kunci : Outing Plus 8, Pelatihan Broadcasting, Tingkat keberhasilan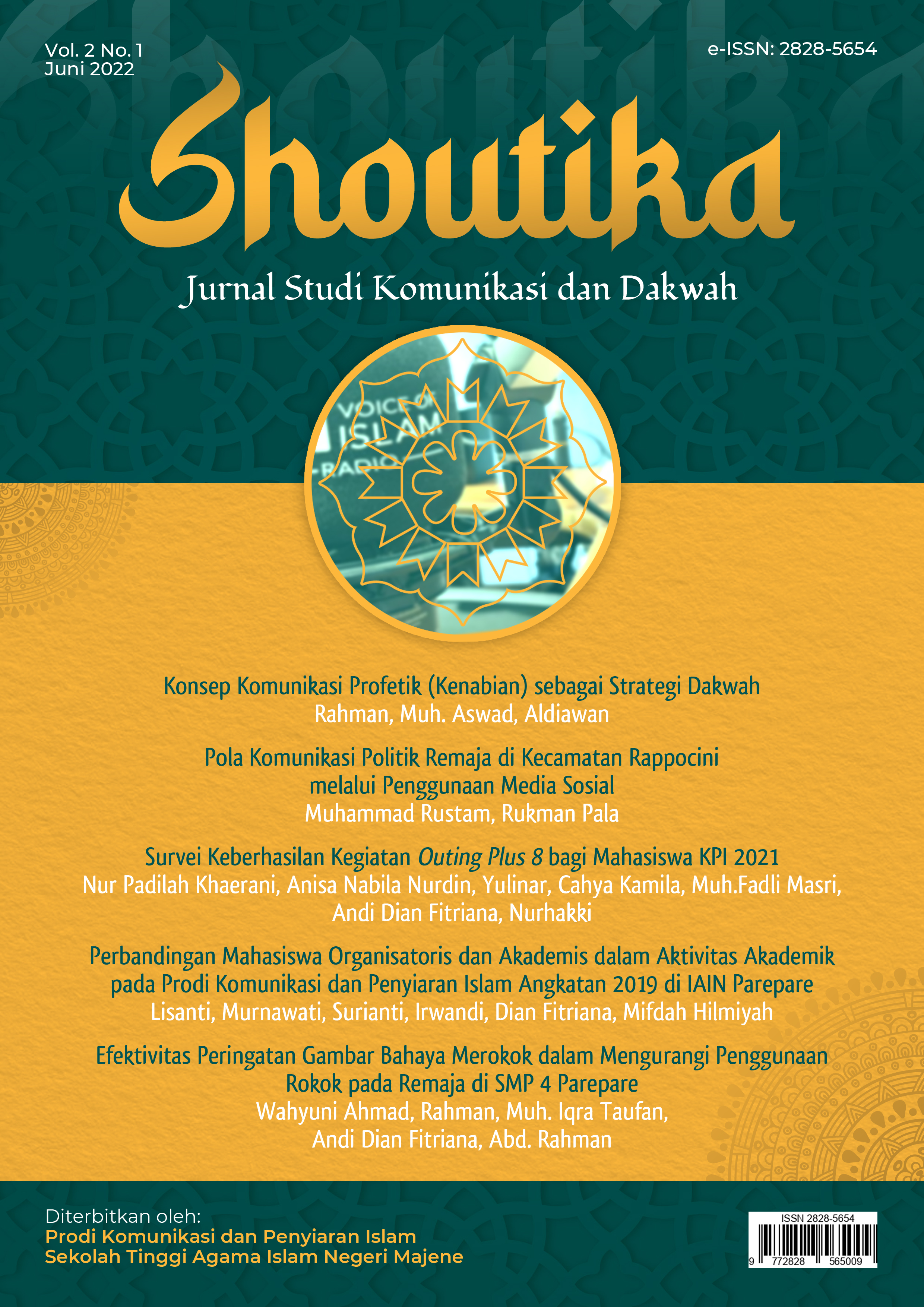 Downloads