The Analysis of Code-Mixing in an English Learning Platform on Youtube
Keywords:
code-mixing; type code mixing; function code-mixing
Abstract
This study aims to determine type of code-mixing and function of code-mixing in English learning platform on YouTube. This study is important because by knowing more about the type and the function of code-mixing, we can have broad knowledge of language use. This study employed a qualitative method because it described a phenomenon under a study. In collecting the data, this study analysis the data (video) by watching. The results of this study are to find out some examples types of code-mixing from Aaron's English YouTube Channel. There are two types namely intra sentential mixing have two forms specifically word and phrase then extra sentential mixing. Categorizing the code-mixing function from the example of the expression, and there are two functions from the results of this analysis, namely suggestion and emotional expression.
References
Al-Ahdal, A. A. M. H. (2020). Code Mixing in Arabic conversation of collage students: A Sociolinguistic study of attitudes to switching to English. Asian ESP Journal, 16(1), 6–19.
Brooker, R. A., & Morris, D. (1962). A General Translation Program for Phrase Structure Language. Journal of the ACM (JACM), 9(1), 1–10.
Genc, L. G., & Meral, S. (2020). Evaluation of an English course book in Turkey based upon sociolinguistic aspects. PESA Uluslararasi Sosyal Arastirmalar Dergisi, 6(2), 171–181.
Hanafiah, R., Rantika, A., & Yusuf, M. (2018). The Levels of English-Arabic Code Mixing in Islamic Boarding School Students' Daily Conversation. Advances in Language and Literacy Studies, 9(6), 78–81.
Keltner, D., Sauter, D., Tracy, J., & Cowen, A. (2019). Emotional Expresion: Advances in Basic Emotion Theory. Journal of Nonverbal Behaviour, 43(2), 133–160.
Kim, E. (2006). Reasons and Motivations for code-mixing and code-switching. Isuues in EFL, 4(1), 43–61.
Mabela, S., Sabardila, A., & Wahyudi, A. B. (2021). Code Switching and Code Mixing in Ustadz Hanan Attaki's Da'wah on YouTube Social Media and Its Implications. In International Conference of Learning in Advance Education (ICOLAE 2021).
Marzona, Y. (2017). The Use of Code Mixing Between Indonesian and English in Indonesian Advertisement of Gadis. Jurnal Ilmiah Langue and Parole, 1(1), 238–248.
McDougall, W. I. L. L. I. A. M. (1920). Original Papers: A Note on Suggestion. Journal of Neurology and Psychopathology, 1(1), 1.
Nalantha, I. M. D., Suwastini, N. K. A., Susanthi, I. G. A. A. D., Wiraningsih, P., & Artini, N. N. (2021). Intra-Sentential and Intra-Lexical Code Mixing in Nessie Judge's YouTube Video Entitled "Lagu Populer+Pesan Iblis Tersembunyi." RETOTIKA: Jurnal Ilmu Bahasa, 7(2), 166–171.
Talistah, S. (2020). Code Mixing Performed ny Nessie Judge as Content Creator. LITERA KULTURA, 8(1).
Thorat, S., & Choudhari, V. (2016). Implementing a Reverse Dictionary, Based on Word Definitions, Using a Node-Graph Architecture. ArXiv Preprint ArXiv: 1606.00025.
Uswatunnisa, Uswatunnisa, Afredy Krismahuddin, Khairunnisa. (2021). The Variation of West Sulawesi Dialects Used in STAIN Majene. Al-Musannif, 3(1), 45-52.
Uswatunnisa, Uswatunnisa and Andi Asrifan. (2022). Speech Events Analysis on a Talk Show: Mata Najwa on'Ringkus Predator Seksual Kampus' Episode: Pragmatics Study. SSRN. https://papers.ssrn.com/sol3/papers.cfm?abstract_id=4183858.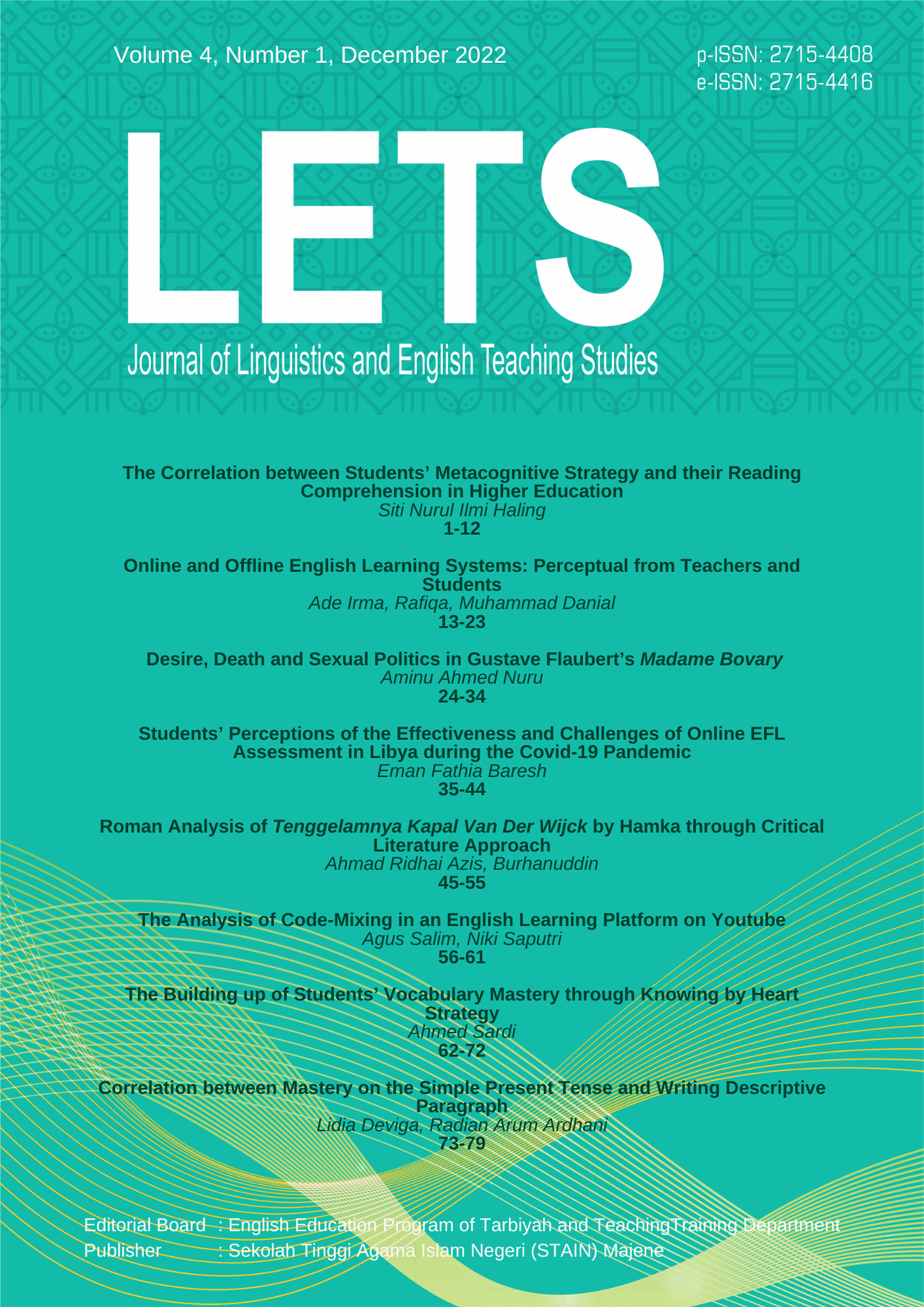 Downloads
License
Copyright (c) 2022 Niki Saputri, Agus Salim
This work is licensed under a Creative Commons Attribution-NonCommercial-ShareAlike 4.0 International License.