Linguistic Configuration and Socio-Pragmatic Function Analysis of Indonesian-English Code Switching
Keywords:
Code switching, Communication strategy, Socio-pragmatic
Abstract
This research aimed to investigate the general patterns of linguistic configuration and socio-pragmatic functions of Indonesian-English code switching. It also explored the communication strategy that the Indonesian elites aim at when they do both IECS and EICS. This study used descriptive qualitative analysis. The data was collected from various speech interactions on TV program. The result shows that the linguistics configuration of Indonesian-English code switching are switch segments such as Noun Phrase (NP), Single Noun, Independent Clause, Verb and Adjective. The combinations of switch points of Indonesia-English code switching mostly occur between NP and HL suffix, between N and NP, between NP and Independent Clause, between V and NP, and Adj and N. In terms of types of code switching are namely; intraclausal (Iracla), Intraphrasal (Iraphra), Intralexical (Iralex), Interclausal and Tag. The socio-pragmatic function of Indonesian-English Code Switching based on the data using Gumperz's model are interjection or sentence-filler, message qualification, personalization, and morphological adaptation. Furthermore, the communication strategy of code switching by Indonesian Elites is to adjust the message which they convey in order to emphasize the statement, also to attract their interlocutor so that they pay the attention to the speaker.
References
Keer, E. M and Aderman, R. M. (1963). Aspect of American English. Harcourt, Brace & World, Inc: New York.
Luciana (2006) Code-Switching in Indonesian Radio and Television Programs: Linguistic and Sociolinguistic Perspectives, Asian Englishes, 9:1, 4-23, DOI: 10.1080/13488678.2006.10801174
Munandar, I., & Sukria, R. (2021). An Analysis on Code-Switching And Mixing Among English Learners Of Gayonese-Speaking Students. Jurnal As-Salam, 5(2), 175–184. https://doi.org/10.37249/assalam.v5i2.311
Patmasari, A., Agussatriana, & Kamaruddin, A. (2022). An Investigation of the Use of Code-Switching in EFL Classroom: Attitudes and Perceptions. ELS Journal on Interdisciplinary Studies in Humanities, 5(2), 230-239. https://doi.org/10.34050/elsjish.v5i2.21006
Suherman, L. A. (2018). The Analysis of Metaphorical Domain on English "Stab Verb" in Corpora. ELS Journal on Interdisciplinary Studies in Humanities, 1(1), 52-58. https://doi.org/10.34050/els-jish.v1i1.4190
Trudgill, P. 1983. Sociolinguistics: An Introduction to Language and Society. London, England: Pinguin Book
Yassi, A. H. (2006). Speech Variety of Elite People in Makasssar: Forms and Social Functions of Indonesia-English Code Switching. Nady Al Adab Vol. 4 No 2: 70-82. Fakultas Sastra Unhas.
Yassi, A. H. 2016. Code Switching as a Communication Strategy. Yogyakarta : Trust Media.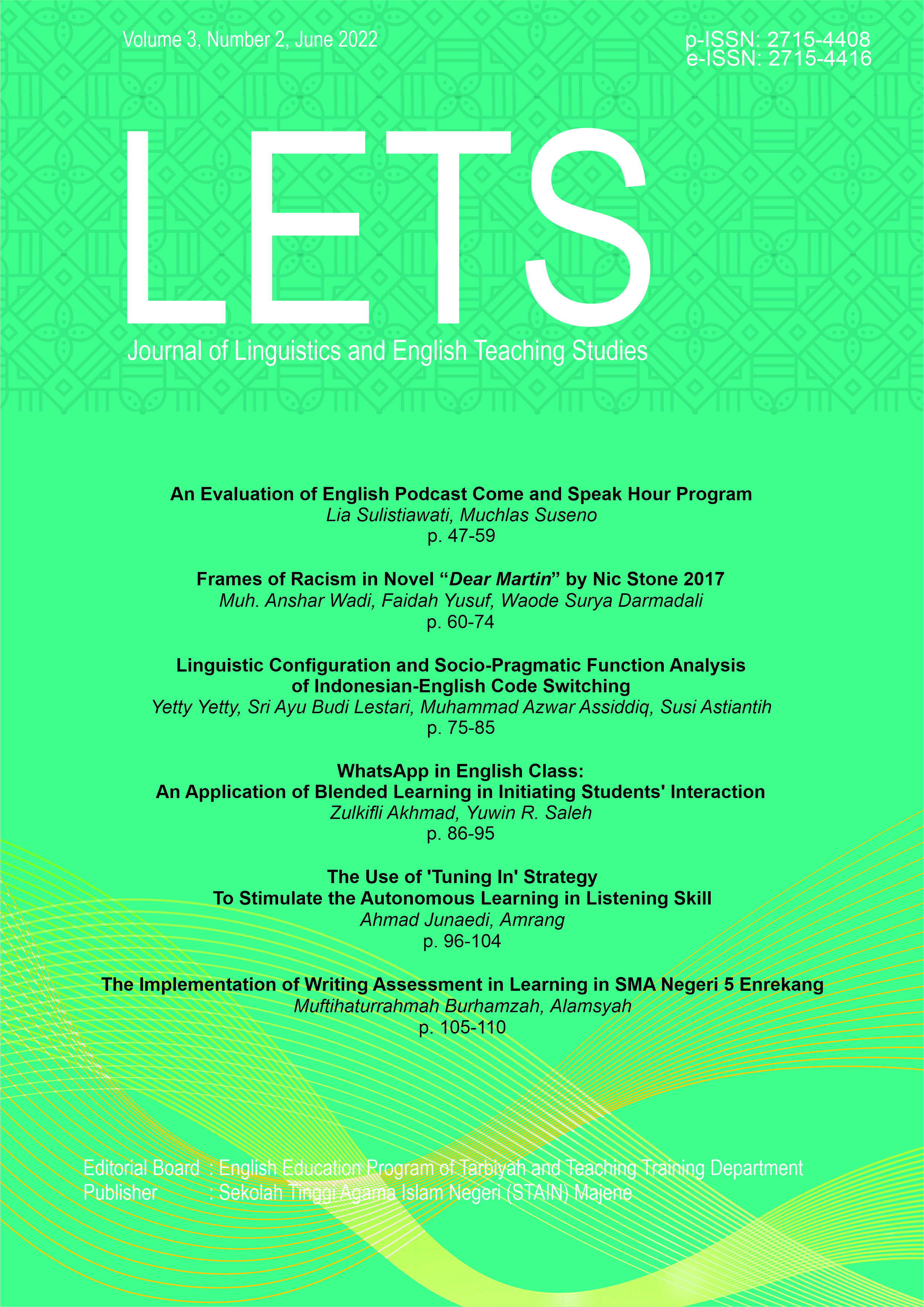 Downloads
License
Copyright (c) 2022 Yetty Yetty, Sri Ayu Budi Lestari, Muhammad Azwar Assiddiq, Susi Astiantih
This work is licensed under a Creative Commons Attribution-NonCommercial-ShareAlike 4.0 International License.