Perspektif Tafsir Al-Mishbah tentang Membangun Kesadaran untuk Kembali pada Allah Swt
Keywords:
Kembali kepada Allah, Tobat, Surga Allah
Abstract
This paper is a literature study that talks about the message of self-awareness to return to Allah Swt. The intended return is divided into two things, the first is returning in an active sense through repentance. Repentance also has three meanings, renewing faith, replacing ugliness with good and eliminating sins. Second, returning in a passive sense, namely when a person's life has been revoked (through death). The responsibility for the life of the world will certainly be passed by every human being and plenary happiness is to gain the pleasure of Divine which is proven when returning to Allah Swt a servant succeeds in obtaining and being placed in Allah's heaven.
Keywords: Return to Allah, Repentance, Heaven of Allah Swt.
References
Abdulhameed, Sultan. Al-Qur'an untuk Hidupmu Menyimak Ayat Suci untuk Perubahan Diri. Jakarta: Zaman, 2012.
Akbar, M. Yudi Ali. dkk, "Hubungan Relijiusitas dengan Self Awareness Mahasiswa Program Studi Bimbingan Penyuluhan Islam (Konseling) UAI". Jurnal Al-Azhar Indonesia Seri Humaniora. Vol. 4. No. 4. 2018.
Arifin, Bey. Hidup Sesudah Mati. Jakarta: Zahira, 2014.
Gusmian, Islah. Doa Menghadapi Kematian Cara Indah Meraih Husnul Khatimah, Bandung: Mizania, 2007.
al-Hamd, Syaikh Muhammad bin Ibrahim. Tobat Surga Pertama Anda, Terj. Muhibburrahman. Jakarta: Pustaka Imam Syafi'I, 2007.
Islam, Maulana Muhammad, Rahasia Setelah Kematian. Terj. Masrahan Ahmad. Yogyakarta: Citra Media, 2007.
Qardhawi, Yusuf. Kitab Petunjuk Tobat Kembali ke Cahaya Allah, Terj. Irfan Maulana Hakim. Bandung: Mizan Pustaka, 2008.
Shihab, M. Quraish. Tafsir al- Mishbah: Pesan, Kesan dan Keserasian al- Qur'an. Jakarta: Lentera Hati, 2002.
-------, M. Quraish. Menjemput Maut Bekal Perjalanan Menuju Allah Swt. Jakarta: Lentera Hati, 2005.
-------, M. Quraish. Wawasan Al- Qur'an Tafsir Tematik atas Pelbagai Persoalan Umat. Bandung: Mizan, 2013.
Shomali, Muhammad Ali. Mengenal Diri. Jakarta: Lentera, 2002.
Surur, Miftahus. "Konsep Tobat Dalam Al-Qur'an". Jurnal KACA (Karunia Cahaya Allah) Jurusan Ushuluddin STAI AL FITHRAH. Vol. 8. No. 2. 2018.
Widi, Restu Kartiko. Asas Metodologi Penelitian. Yogyakarta: Graha Ilmu, 2010.
Yusuf, Kadar M. Tafsir Ayat Ahkam. Jakarta: Amzah, 2011.
al-Zuḥayli, Wahbah. Tafsir al-Munir. Cet. XIV. Beirut: Dar al-Fikr, 2014.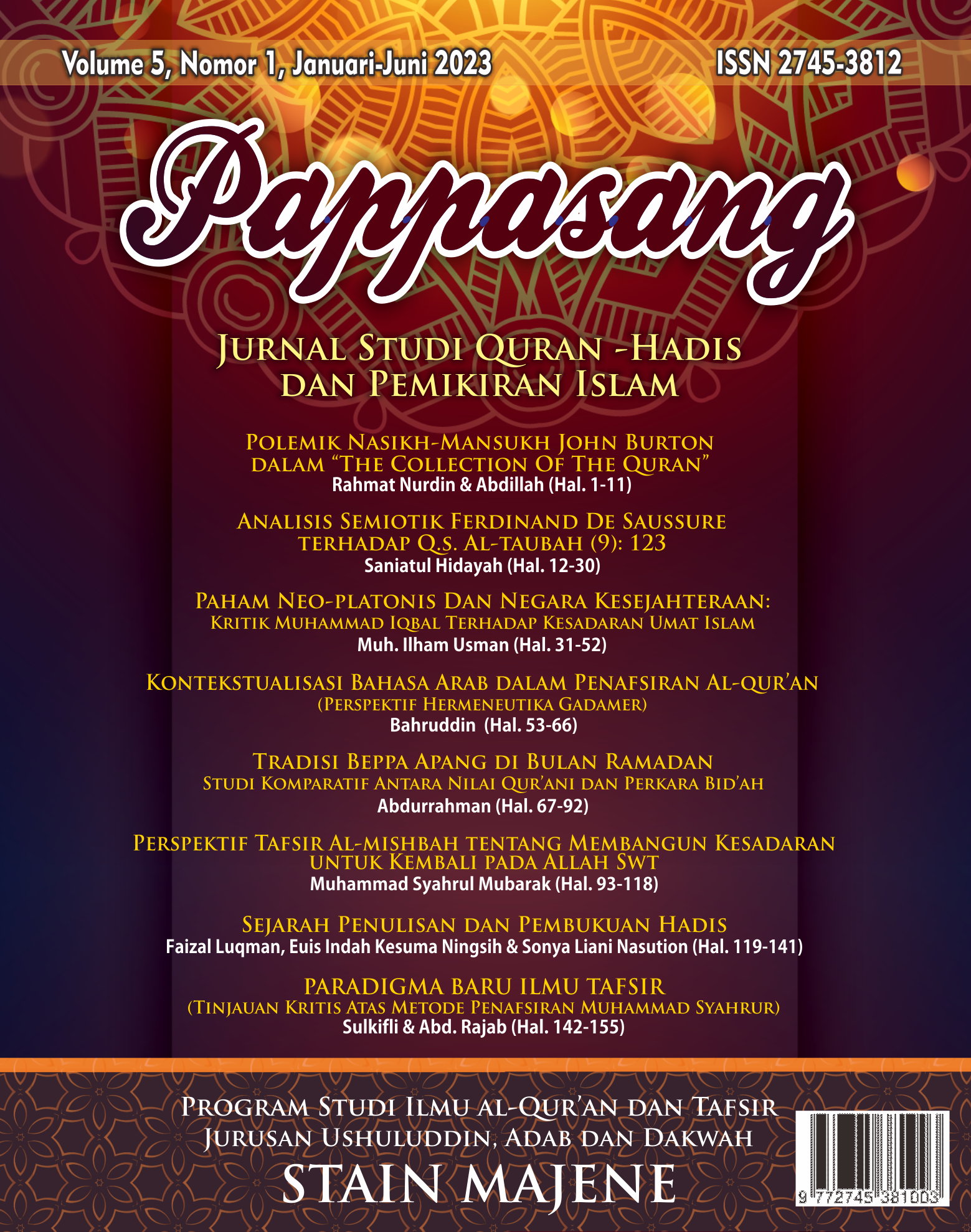 Downloads